My List
This feature is for registered users only. Please
signup
today for free.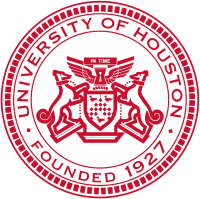 Department Name
Department of Philosophy
Degrees Offered
Terminal Masters
Non-Teaching Fellowships:
Teaching Assistantships:
9
Students teaching their own classes:
Other Financial Information:
| | | |
| --- | --- | --- |
| Cameron Buckner, Assistant Professor | D. Justin Coates, Associate Professor | Cynthia Freeland, Full Professor |
| | | Yael Rebecca Loewenstein, Assistant Professor |
| Christy Mag Uidhir, Assistant Professor | Luis Oliveira, Assistant Professor | David Phillips, Full Professor |
| Tamler Sommers, Associate Professor | Josh Weisberg, Associate Professor | |
Ph.D. Tuition (US$ in FTEs)
Ph.D. Program Entry Requirements
Letters of Recommendation:
The University of Houston Masters Program in Philosophy features a stellar research faculty boasting a per-person publication record equal to or exceeding that of any terminal Masters program in philosophy over the last five years. The program is especially strong in: History of Philosophy: Greg Brown is a leading Leibniz scholar. Helen Hattab has published extensively in early modern philosophy, including a recent Cambridge monograph on Descartes, and is Vice President of the International Society for the History of Philosophy of Science. Aesthetics: Both Cynthia Freeland and Christy Mag Uidhir have published broadly, each with a recent Oxford monograph (with Mag Uidhir winning the ASA Outstanding Monograph Prize). Cognitive Science: Jim Garson has published much at the interface of logic and cognitive science, with two books at Cambridge. Joshua Weisberg and Cameron Buckner have published extensively on consciousness and animal cognition respectively. The department also has ties to UH's Perception & Visual Cognition and Cognitive Development Labs. Ethics: Tamler Sommers recently published a monograph with Princeton on justice. Justin Coates is a leading scholar on blame (with a recent anthology at Oxford). David Phillips is a leading Sidgwick scholar (also with a recent monograph at OUP).
Master's Tuition (US$ in FTEs)
Number of Required Courses:
Master's Program Entry Requirements
Letters of Recommendation: